Since the end of 2018, Chevie Mawarti, founder of Arnetta Craft, has been creating handicraft items from used cooking oil (UCO), including soap, candles, and scented wax, which she then sells in packages and hampers.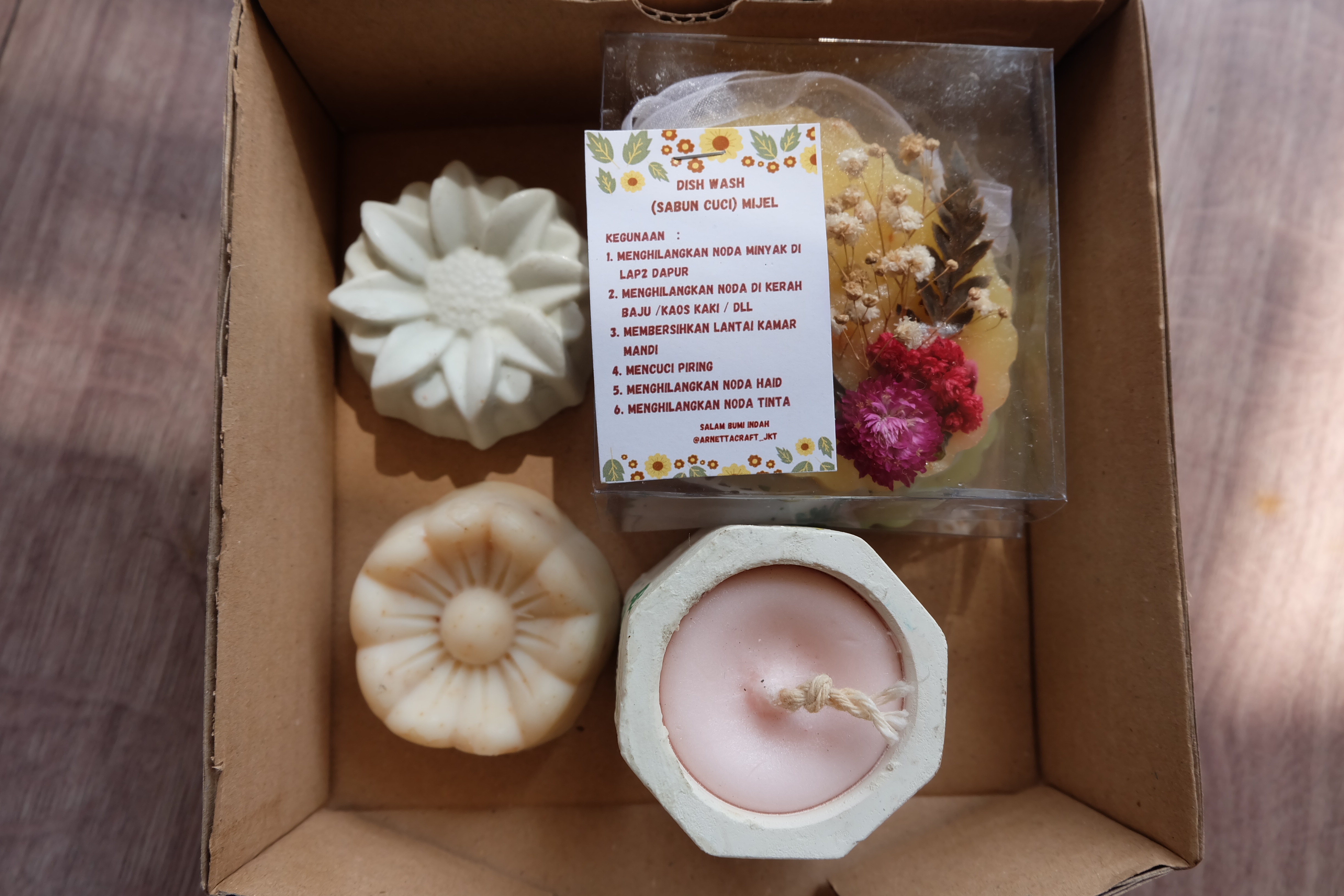 "Cooking oil has a selling value as long as it is polished beautifully. Recycling UCO to make other things can also reduce household waste, as old cooking oil is usually dumped in the drainage. This is a way to play a role in protecting our environment," said the 2019 Ibu Ibukota Awards finalist. She also emphasized the importance of better management of UCO by more people. "The more people who process used cooking oil, the greater the benefits for the environment."
Armed with this belief, Chevie regularly provides training on processing UCO to housewives, members of the Family Welfare Development program (PKK), inmates at Pondok Bambu women's prison, orphans, and people with disabilities. In partnership with Traction Energy Asia in March 2022, Chevie provided training to 23 housewives in Petamburan, Central Jakarta on 24th March, and 21 housewives in Kapuk Muara, North Jakarta on 31st March. A total of 44 housewives have gained new knowledge about how to make laundry soap, candles, and scented wax, as well as how to clean UCO before processing.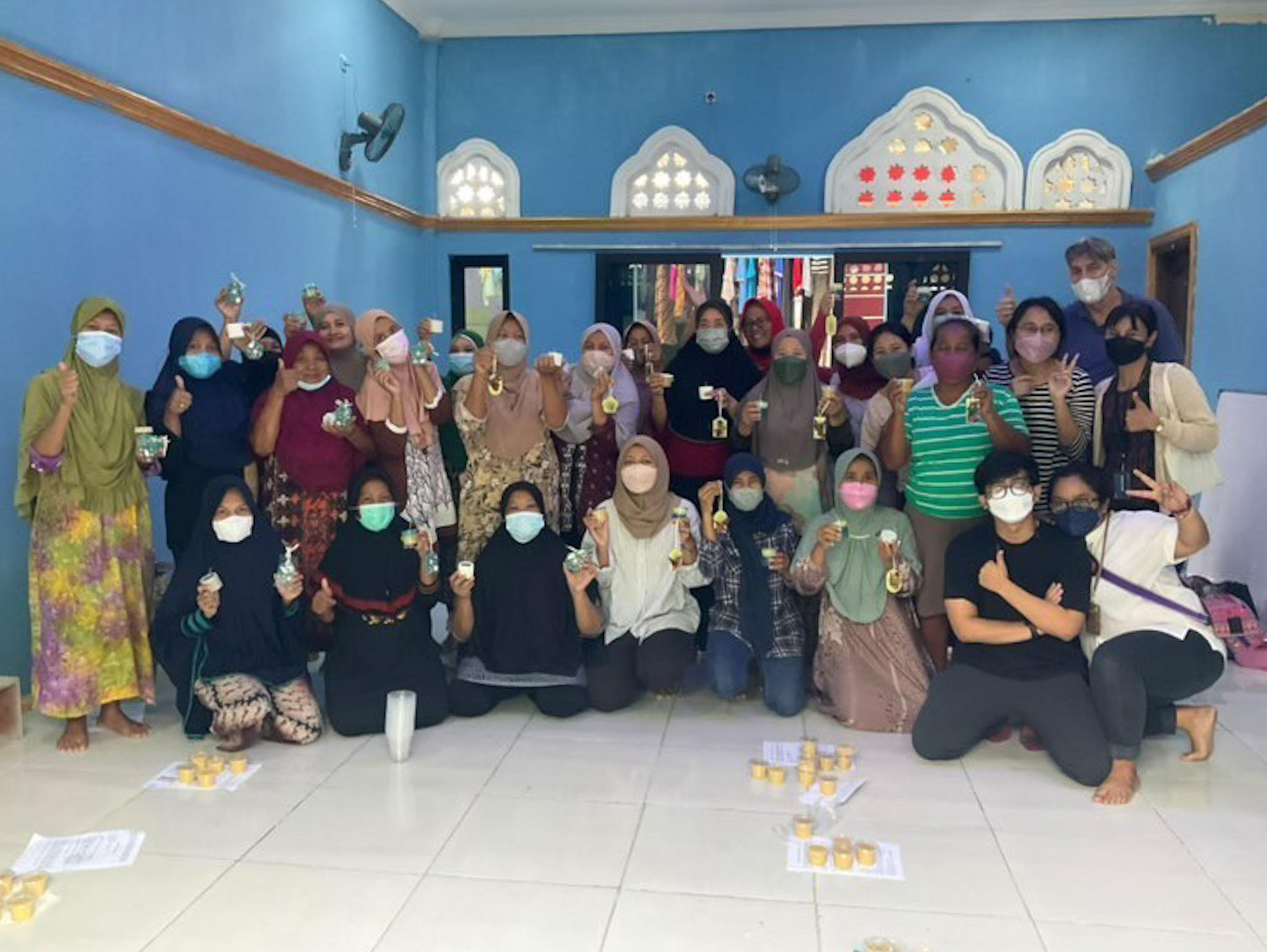 Traction Energy Asia facilitated these trainings in an effort to encourage these communities to collect their UCO instead of disposing of it by demonstrating the economic potential of reusing it. In addition, collecting UCO instead of using it many times to fry food reduces the risk of diseases such as hypertension, cancer, stroke, and kidney disorders.
Ira Kusuma Dewi, one of the residents who attended the cooking oil processing training in Petamburan, was enthusiastic about her participation. "It turns out that used cooking oil has many economic benefits, doesn't it? I became interested in making more." Ira sells household items to fulfill her daily needs, so learning how to process UCO into different handicrafts inspires her entrepreneurial spirit.
Een Sunarsih, one of the participants from Kapuk Muara, also expressed her enthusiasm. "In May last year my house, along with many others in our area burnt down. Since then, the housewives here have lost their enthusiasm, plus, work is also difficult due to the pandemic." Een worked from home gluing sandals for a factory and was badly affected by the pandemic. This training is the first community activity since the fire. "The housewives now have the option of processing the used cooking oil in their own communities," said Een from her house, which was renovated in November 2021.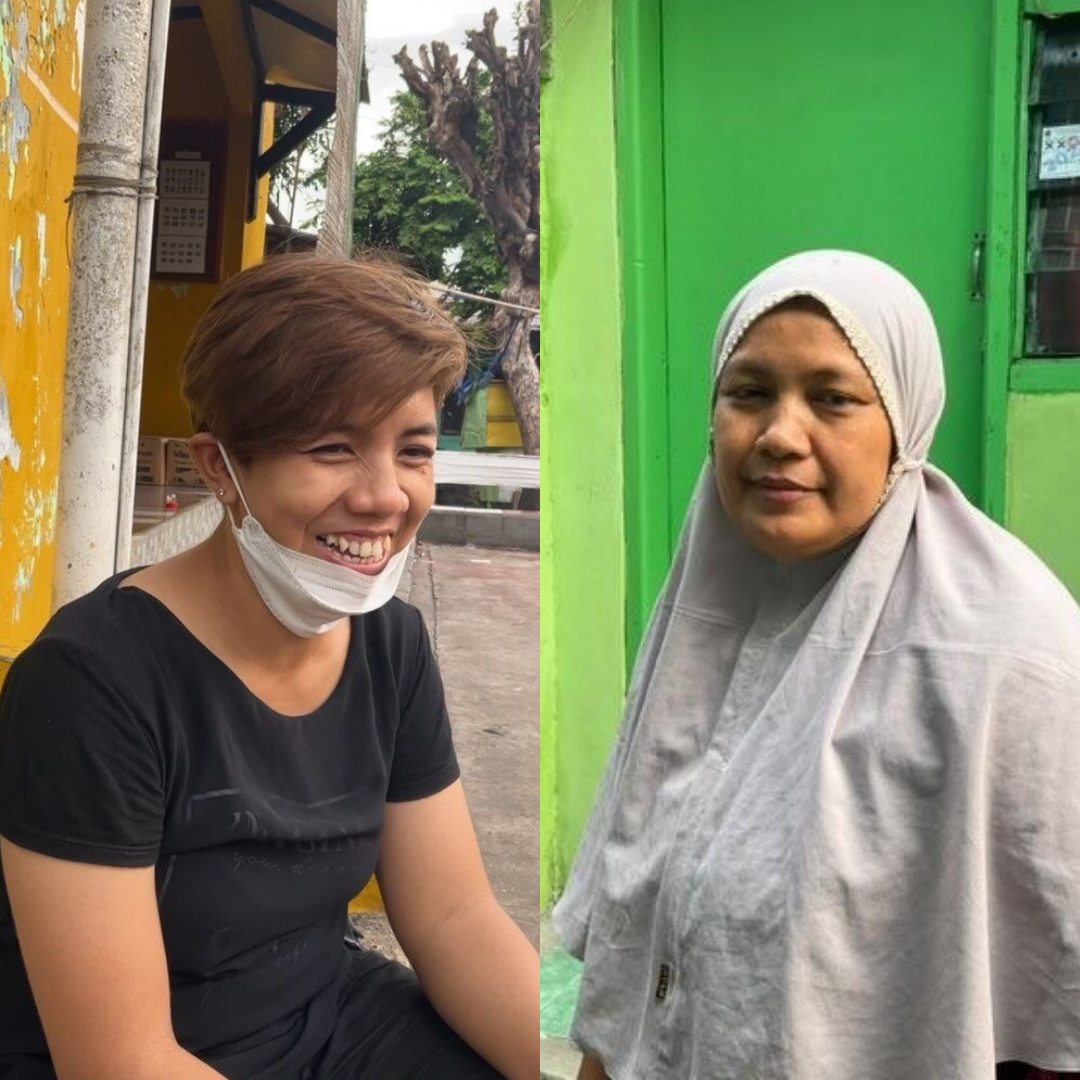 While the knowledge to make handicrafts from UCO encourages households to collect the waste that otherwise they'd throw away and turn it into products that can be sold, household collection of UCO also has other economic benefits. The latest Traction Energy Asia study examines the potential availability of used cooking oil for biodiesel feedstock and the best models for collecting it from households and micro-enterprises in large cities across Java and Bali, namely Bandung, Semarang, Surakarta, Surabaya and Denpasar. Based on detailed surveys in these cities, the study estimated that 1.2 million kiloliters per year of used cooking oil could potentially be collected from households and micro businesses in Indonesia's main population centres.
Fariz Panghegar, Research Manager at Traction Energy Asia, confirmed the potential of UCO. "Cooking oil, if used optimally, has a positive economic impact. It is because this material is easily obtained at a low price or even free of charge. This means that used cooking oil has the potential to provide multiple benefits both in terms of the economy, as well as the environment, energy, and health," said Fariz.
Used cooking oil as a complementary raw material for biodiesel is an alternative to crude palm oil biodiesel feedstock, and is cheaper with a more stable price compared to crude palm oil (CPO), whose price fluctuates following international market trends. The market index price trend for biodiesel from CPO is generally higher than the market index price for diesel, which leads to the potential for a high subsidy burden for the government's biodiesel program. The government can set a fixed price as compensation for the sectors that contribute UCO for biodiesel feedstock. If UCO is chosen as a complementary feedstock for biodiesel, the government has a supply of biodiesel raw material whose price is stable and is not affected by fluctuations in commodity prices on the international market. Traction Energy Asia estimates that the potential savings in the national biofuel procurement budget, where 10% of the usual CPO biodiesel feedstock is replaced by used cooking oil, would be IDR 4 trillion (US$278.5 million).
Using UCO for biodiesel feedstock can exemplify an efficient and multi-beneficial circular economy. The household sector, as well as the hotel, restaurant, and cafe sectors can be involved as suppliers of UCO as biodiesel feedstock. With the right policies and incentives, these sectors can enjoy additional income as UCO suppliers.
The many benefits of collecting UCO are too good to ignore any longer. In addition to reducing the risk of water pollution from UCO disposal and reducing the health risks of consuming old oil, it can bring economic benefits to the people and businesses that collect it, as well as helping to reduce the risk of deforestation and reducing greenhouse gas emissions as an alternative biodiesel feedstock.