Traction Energy Asia (TEA) is an independent, multidisciplinary group of experts and advocates on climate change, energy policy, CO2 emissions reduction, clean energy and the law.
GIORGIO GUDI INDARTO​
ADVISORY BOARD
GIORGIO GUDI INDARTO​
Giorgio is an expert in environmental law, and over the past 14+ years has been lead consultant on a variety of projects, including providing expert advice specializing in climate change, land use change and forestry.​
LUCKY LONTOH
ADVISORY BOARD
LUCKY LONTOH
Lucky is a recognized energy policy analyst, related to fossil fuel subsidy reform and public behavior, mass communications, political economy, macroeconomic analysis, and the gender impact of reform.
RUTH SIMAMORA
ADVISORY BOARD
RUTH SIMAMORA
Managing partner in leading Jakarta law firm, RMA & Associates, Ruth has extensive experience across environmental law and regulations, particularly in oil, gas and mining, as well as in import / export and labour.
YUYUN INDRADI
ADVISORY BOARD
YUYUN INDRADI
Yuyun helped shape Indonesia's Legal Timber standard, REDD+ social and environmental safeguards, and the CSO common platform on the forest moratorium. He is a member of Forest Watch Indonesia and the Indonesia Ecolabel Institute. After leading forest political work for Greenpeace Southeast Asia, he is now Greenpeace Southeast Asia's Regional Political Advisor for climate & energy issues, including global climate politics and urban sustainability.
HARYO YUSWO
ADVISORY BOARD
HARYO YUSWO
Haryo is a digital technology and open source enthusiast with over 10 years of professional experience.
He is passionate about the role digital technology plays in environmental sustainability, clean energy and related security issues. Haryo is an expert in engineering, networking, information security and operating system software, virtualization, as well as hardware and IoT. He currently supports Greenpeace Southeast Asia as the Regional Information Security officer.
TOMMY PRATAMA
EXECUTIVE DIRECTOR
TOMMY PRATAMA
13+ years experience in project design, strategy development, socio-economic studies, monitoring and evaluation, and partnership building with stakeholders.
MARTIN BAKER
STRATEGY AND COMMUNICATIONS DIRECTOR
MARTIN BAKER
30 years experience of designing and implementing strategies and communications for key climate, energy and forest related issues, based first in Europe and, for the past 17 years, in Asia.
SUDARYADI
RESEARCH DIRECTOR
SUDARYADI
He is an alumni of Master in Economic and Development Studies in Diponegoro University, Semarang (2007). He's main interest is in regional economic studies and public policy analysis related to structuring and improving safety capabilities. Often involved in the work of formulating economic development strategies and designing technocratic regional development planning documents.
NATALIA
FINANCE MANAGER
NATALIA
Natalia is an accountant with 14+ years experience in financial reporting, tax calculation and reporting, budgeting, and audit, both in profit and non-profit organizations.
RICKY AMUKTI
ENGAGEMENT MANAGER
RICKY AMUKTI
Ricky Amukti, graduated from the Faculty of Law, Brawijaya University, and has an avid interest in public policy.
He compiled a research journal on the Online Petition Law Arrangement as a Form of Community Participation in Public Policy Making in Indonesia. Ricky is also one of the founders of AJARIKITA, an education NGO focusing on the welfare of honorary teachers.
FARIZ PANGHEGAR
RESEARCH MANAGER
FARIZ PANGHEGAR
Fariz, graduated from the Political Science, University of Indonesia. His research works focus on urban studies and political participation on election and post-election. As a researcher, he's learning to observe urban studies on energy and sustainability issues. Experienced at writing books, articles, policy papers, training modules and story boards for campaign materials. His undergraduate thesis was published under the title of "Berebut Ruang: Dinamika Politik Trayek Angkot di Jakarta" which examined the political struggle for creating and commodifying urban spaces in Jakarta public transport business.
ANASTASIA RAMALO
SENIOR COMMUNICATION OFFICER
ANASTASIA RAMALO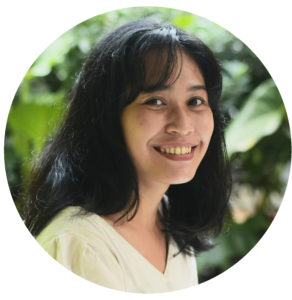 Anastasia graduated from Universitas Indonesia where she was specializing in media and cultural studies. She has acquired almost five years of experience in the development sector, chiefly in communications. Her work for the environment has brought her from a donor's office in Jakarta to directly working with local fishers communities in rural villages in Fakfak, West Papua.
MUTMAINAH SEPTIANI
COMMUNICATION OFFICER
MUTMAINAH SEPTIANI
Graduated from Brawijaya University with distinction in environmental law and state administrative law. Mutmainah's environmental law thesis was on carbon emissions reduction in Indonesia by urging the regulation making of Carbon Tax.
ANNISA SEKAR SARI
ENGAGEMENT OFFICER
ANNISA SEKAR SARI
Annisa holds a Bachelor Degree in Environmental Engineering Diponegoro University graduated in 2018. She is very passionate in Healthy Safety Environment (HSE), Clean Production and Environmental Management System. She also certified as "Calon Ahli K3 Umum" given by Kementerian  Ketenagakerjaan Republik Indonesia. Her undergraduate thesis was about soundproofing organic material to form noise reduction inflicted from a generator set which was used as a prototype on her university major.
RINI ANGGRAHINI
HUMAN RESOURCES ADMINISTRATOR
RINI ANGGRAHINI
She has more than three years experience working in one of the state-owned banks in Jakarta as Executive Staff.
She was awarded as the employee with the Best Work Performance in September 2016.
Taufik Radhianshah
RESEARCHER
TAUFIK RADHIANSHAH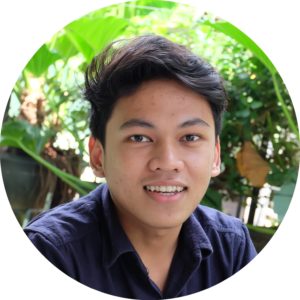 Taufik, joining Traction Energy Asia straight up after finishing his undergraduate study of economics at Diponegoro University. His published article titled "Capital Account Liberalization and Income Inequality" is a manifestation of his interest in the interaction between sectors in economy and the role of economy itself in improving people's welfare. Looking forward to bring positive impacts on welfare and the ecosystem through research and prudent policy recommendations.
PD DR. PATRICK ZIEGENHAIN
ASSOCIATE RESEARCHERS
PD DR. PATRICK ZIEGENHAIN
Patrick Ziegenhain is from Germany. His main areas of research are economic, political and social developments in Southeast Asia. He is currently a Visiting Professor at the Department of Business Administration at Atma Jaya University in Jakarta, Indonesia. Previously, he had been  Visiting Professor at the Asia-Europe Institute of University of Malaya in Kuala Lumpur, Malaysia (2016 – 2018); Interim Professor at the Department of Southeast Asian Studies at Geothe- University Frankfurt, Germany (2015); Visiting Professor at De la Salle University Manila, Philliphines in 2014; and Assistant Professor ("Akademischer Rat") at the Department of Political Science in University of Trier, Germany (2007 – 2014).
RIA FITRIANA
ASSOCIATE RESEARCHERS
RIA FITRIANA
Ria Fitriana has been working in marine biodiversity governance and coastal community's livelihoods for over than twenty years. She is familiar with bi- and multi lateral assignments and arrangements. She has been involved in preparing several full proposal documents for UN organizations and NGOs which includes preparing project components, budget and analyzing sustainability (innovative financing mechanism, partnership, and institutional arrangement). In general she is familiar with biodiversity financing mechanism and planning biodiversity initiative. She has strong interests in community based economic development and market link of natural resource commodities. Ria Fitriana has been working in coastal and marine governance, especially coastal community livelihoods for more than fifteen years. She has myriad experiences with conducting research as well as implementing best practices or marine and coastal resources in Indonesia, Timor Leste and PNG. She has extensive knowledge on socio economic coastal villagers, value chain analysis of marine products, marine products development, gender and livelihoods of small scale fishers. She conducted VC study for ILO, FAO, UNDP TNC, Oxfam, CSIRO and PLAN International. She promotes the use of VCA to strengthen the participation of small scale producer along the chain.